SRA Town Picnic Thursday, June 29 5:30 to 8:00pm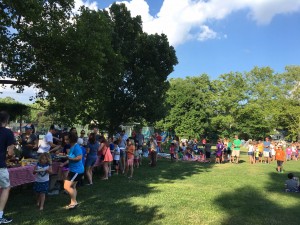 We will eat promptly at 6pm!
(No Rain Date)
SRS BASEBALL FIELD  On College Ave. behind SRS
SRA provides:  Hotdogs, pulled pork sliders, veggie burgers, buns, lemonade and good old-fashioned games!
You provide: one dish to share (plus silverware, cups & napkins)
Last name A-L salad, fruit or a veggie plate to share
Last name M– Z  dessert to share
A multigenerational picnic for family members and friends.
Games and fun will include Tug-O-War (North VS South), wheelbarrow races, and crabwalking races.