Women's Soccer
Adult women of all skill levels, from new players to former Division I athletes come together to play pickup games outside. These are informal pick up games, with a variety of competitive styles.
We are also planning a beginner's clinic to welcome to the game those who have never played or who haven't played in years. The clinic is included in the registration fee. Details on the clinic will be available closer to the beginning of the season.
Girls who play for Swarthmore Soccer Club and are at least 12 years old are welcome to join the women's games. Registration is required at no additional fee. Please reach out to Sara@SwarthmoreRecreation.org to sign up.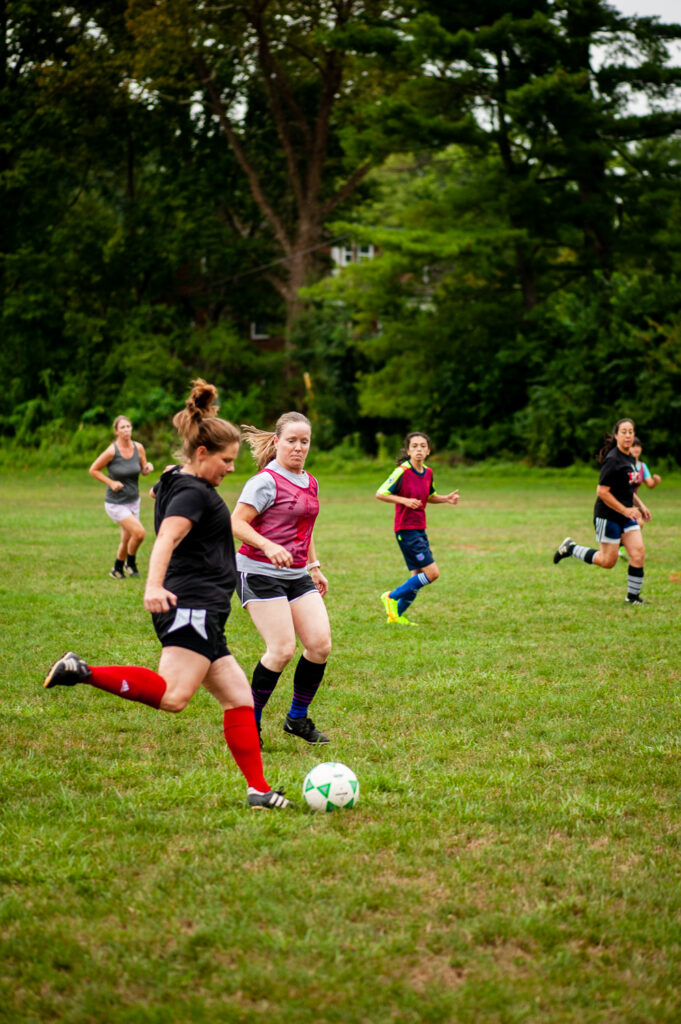 WHO: All adult women looking to play with friends
WHEN: women's soccer is taking a break for the summer, join us for Sandlot Soccer
WHERE: Henderson Field
REGISTRATION FEE: $65
PROGRAM DIRECTOR: Cindy Burks (the rockstar in the red socks)
Register HERE for Spring 2022 (Registration opens March 7th at 9:00AM.)
Men's Soccer

SRA continues the tradition of pick-up men's soccer on Sunday mornings! Join us for a lively game on Henderson Field!
WHO: Adult men looking to play with friends
WHEN: Sunday mornings, 8:00-10:00AM, June 26th – August 28th
WHERE: Henderson Field
REGISTRATION FEE: $65
PROGRAM DIRECTOR: Nate Nicholson
Registration is now filled for Summer 2022